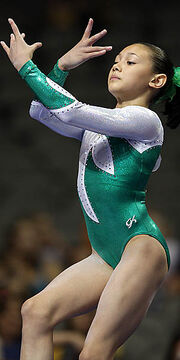 Kyla Ross
(born October 24, 1996) is a
United States
gymnast from
Aliso Viejo, California
. Kyla trains at Gym-Max in
Costa Mesa, California
, where she is coached by Jenny Zhang and Howie Liang. She is a United States Junior National Team member, the 2011 Covergirl Classic Junior Champion, and the 2009 & 2010 US Junior National Champion.
[1]
In 2009, Kyla competed at the United States Junior National Championships in Dallas, Texas. She won golds in the all-around, vault, and balance beam and won bronze on floor exercise. She competed at the 2009 Junior Pan American Games in Aracaju, Brazil where she helped the United States team win the gold medal. The U.S. team was composed of Kyla Ross, Sabrina Vega, Alexandra Raisman, and Bridgette Caquatto. The U.S. women swept the top four spots in the all-around: 1.) Ross 57.40 2.) Vega 56.25 3.) Raisman 56.20 4.) Caquatto 56.10. In event finals, Kyla won golds in the all-around, the uneven bars, and the balance beam and won silver on the floor exercise.
Ad blocker interference detected!
Wikia is a free-to-use site that makes money from advertising. We have a modified experience for viewers using ad blockers

Wikia is not accessible if you've made further modifications. Remove the custom ad blocker rule(s) and the page will load as expected.